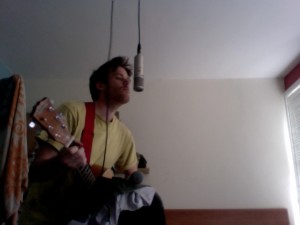 Recorded in my pants this morning into garageband. No interface – straight in. Sorry for quietness.
… First heard this song on the B-side to 'Outdoor Type', recorded live for a radio station in Milan. It's a really underrated Dando one I think; one of those that just flows out of you when that black dog calls.
LOSING YOUR MIND (Evan Dando; ASCAP)
====================================
What a comfort to find out you're losing your mind / when you re-realise that it's not the first time / burnt the beyond when you learned how to fly / just to learn later on that there isn't a sky / there aren't any clouds, and there aren't any trees / and there aren't any birds / and there's no cinder caught in my eye / til I've tied a tired knot and tried to untie it / I can't decide if I should lie / or tell the truth and try to hide it.